PRINCETON, N.J. (April 27, 2020) – US Military to honor COVID-19 front line workers in Trenton, NJ on Tuesday 4/28
The U.S. Airforce Thunderbirds & Blue Angels will honor front line COVID-19 workers in the Trenton, New Jersey area along with Newark, NYC and Philadelphia on Tuesday April 28, 2020 beginning at noon.  A total of twelve Thunderbirds and Blue Angels will fly over Trenton, NJ in precise formation around 1:45P EST.
The Blue Angels detailed flight route is below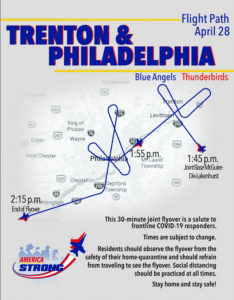 The US Air Force & Navy have asked people not to gather at hospitals or other areas to view the show.  The teams welcome and encourage viewers to tag the flyover on social media with the hashtag #AmericaStrong.
Visit the Navy website for the official release.
We encourage you to watch from a distance and respect those that have been on the front lines that deserve to enjoy this honor without distraction.
Blueclone Networks is a Princeton based IT Company with focus on Computer Systems Management, Cybersecurity, and Cloud Services for small & medium sized business in Central NJ.